Design After Dark | bespoke
Written by Kimberly MacArthur Graham on February 14, 2012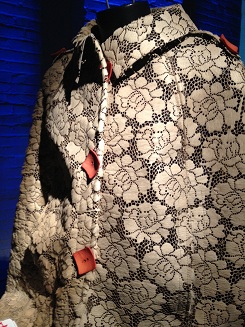 We were honored to play a part in last Friday's Design After Dark | bespoke, the signature event of the Denver Art Museum's Design Council.  Now 8 years old, Design After Dark draws more names, bling, and sponsors every single year.  This time around, major sponsors Luxe Magazine and Benjamin Moore Paints led the way, making possible a night of incredible art, fashion, design, gastronomy, and conversation.  The highlight of the event is always the incredible auction of juried one-of-a-kind art objects and unbelievable retail offerings – and this year did not disappoint. Designers of all persuasions created objects embodying this year's theme of "bespoke" (in honor of the prestigious Yves Saint Laurent exhibit coming to the museum next month.)  From a horsehair jacket by Naka Designs to a metal sculpture paying homage to the DAM's Ponti wing (Hangar 41) to a cascade of cut-metal type fitted to a mannequin (R Design LLC + UrbanFabrication– and yep, we just had to outbid everyone and go home with that one!).
Thanks to great PR and insanely hard work by an event committee led by Megan Hudacky and Craig Rouse, the event SOLD OUT!  The capacity crowd was dazzled by the transformation of an empty, raw space generously "loaned" by Fentress Architects and the ridiculously tasty food provided by Gourmet Fine Catering.  Bids and spirits were up for sure!  
While there, we had a blast interviewing attendees from designers like Buddy Poppitt (Hangar 41) to sponsor reps like Benjamin Moore's Connie Mesko and Luxe's Dana Meacham and Rachelle Folsom to DAM's own curator Darrin Alfred.  People were happy to share their ideas on why this event continues to be one of the hottest tickets in town.  We'd sum it up as a completely unique experience with a hip vibe, fun crowd, and unique visual spectacle, all wrapped in the feel-good support of a local institution. We look forward to doing it all over again next year!
###
Layer Cake Creative is a strategic marketing agency specializing in communications, design, publicity and online marketing that enrich your brand and support your strategic and sales goals.  This Denver marketing firm specializes in promoting professional services such as architecture, construction, engineering, law, finance, and real estate.
Tags:
One Response to "Design After Dark | bespoke"